Warm weather is on its way and I've been planning how we're going to keep cool this summer. Frozen treats are always on this list!
I make many of our snacks here at home and our frozen treats are no different. I try to stay away from additives and preservatives as much as possible. Making homemade treats is one of the cheapest ways for me to do this.
I've got a great list of 15 healthy frozen treats that your family will love to get you started planning too.
Healthy Frozen Treats
Strawberry Apple Ice Pops – Lasting Thumbprints
Your family will love these easy to make ice pops. With all natural ingredients, these ice pops are healthy alternative to store bought products.
Honey, Vanilla and Raspberry Frozen Yogurt Bark – Down Home Inspiration
This frozen yogurt bark only requires four ingredients, and is a great healthy snack for kids to munch on throughout the day. Greek yogurt freezes nicely, and is filled with protein. You can also switch out the fruit in this recipe, for a mixture.
2 Ingredient Peach Sherbet – Tidy Mom
This two ingredient peach sherbet is super simple to throw together – plus it's no churn, which means no ice cream machine is needed.
Skinny Cookies & Cream Popsicles – The Skinny Fork
These skinny popsicles are only about 100 calories each, but are entirely kid-friendly. Kids enjoy the cookies, and moms enjoy the healthy ingredients!
Banana Split Bites – Life Love Liz
Similar to kabobs, these banana split bites combine healthy fruits with creamy peanut butter and crunchy nuts that you can pop in your mouth on a hot day.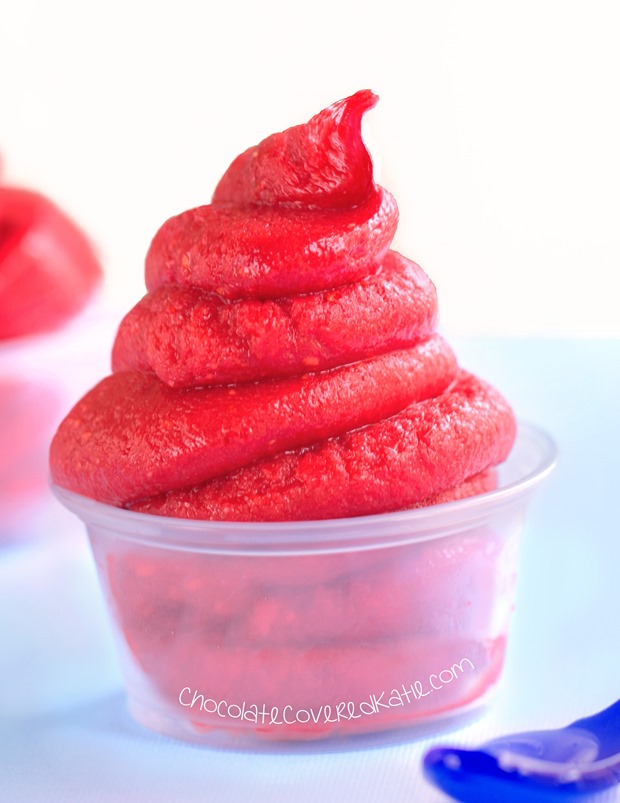 Image credit: Chocolate Covered Katie
Strawberry Dole Whip Recipe – Chocolate Covered Katie
Inspired by Disney's pineapple Dole Whip, this strawberry Dole Whip is a fun, bright red color., and is filled with fresh strawberries.
Healthy Nutella Frozen Yogurt – Desserts With Benefits
Everyone loves Nutella! This recipe has no refined sugar or artificial ingredients, for a guilt-free snack.
Fresh Mint Gelato – Your Homebased Mom
Gelato, Italian ice cream, is often a bit more healthier (less fat, less eggs) than traditional ice cream. This mint gelato only has six ingredients, and is topped with chopped bits of chocolate chips.
Low Carb Coffee Ice Cream – Low Carb Yum
Enjoy the tastes of coffee in a frozen treat with this coffee ice cream recipe. It's also egg free, sugar-free, and low carb.
Easy Peach FroYo Pops – Delightful E Made
These peach frozen yogurt pops are convenient for snacking on throughout a hot day. They're also only three ingredients!

Image credit: Little Bins for Little Hands
Summer Watermelon Popsicles – Little Bins for Little Hands
Easy to "pop" in your mouth, these frozen watermelon pops can be kid-made, and incredibly simple to make with only a handful of ingredients.
Tropical Smoothie – Baker by Nature
Bring Florida to your backyard with these healthy tropical smoothie, made from a variety of fresh fruits.
Frozen Watermelon Push Pops – Eats Amazing
For a light snack on a extremely hot day, try these watermelon push pops. They're made entirely with fresh fruit, and are the bright red and green watermelon colors!
Healthy Raspberry Frozen Yogurt – As Easy As Apple Pie
This creamy raspberry frozen yogurt only requires three ingredients to make! With honey as a natural sweetener, this froyo takes only a few minutes to prepare, making it convenien.
3 Ingredient Coconut Mango Ice Cream – SkinnyMs.
Making your own ice cream cuts back on extra sugar or preservatives, and this basic three ingredient ice cream is no exception! It doesn't require an ice cream machine, but you will need a food processor. It also has a recipe for a raspberry sauce.
Do you have a favorite summer treat? Share it in the comments!