Do you enjoy using sugar scrubs? I sure do! It's a simple way to feel like I'm pampering myself a bit and get smoother skin while I'm doing it. And I love creating my own homemade sugar scrub.
The cost of store bought sugar scrubs can be kind of high and sometimes they contain less than desirable ingredients. Making you own sugar scrubs is an easy way to save money, use natural ingredients, and still treat yourself.
Making sugar scrubs is also simple enough for children to participate, making this a great gift giving idea. This past Christmas, my children helped me make two kinds of sugar scrubs (peppermint and lavender) to give to their grandmothers and aunts. The kids were so excited and proud to be a part of it, the house smelled great :), and the recipients were quite happy. Wins all around!
Homemade sugar scrub is a great gift for holidays (Mother's Day is just around the corner!), teacher appreciation, thank you gifts, or just because. Here's a list of over 25 homemade sugar scrub recipes with a variety of scents so you can find the perfect match for your needs.
Homemade Sugar Scrub Recipes
Homemade Pineapple Orange Lip Scrub | LastingThumbprints
This pineapple orange lip scrub uses all natural ingredients to turn your lips from dry to smooth.
Root Beer Float Sugar Scrub | The Gunny Sack
Make a Root Beer float sugar scrub, topped with a plain vanilla sugar scrub. Their classic brown color and beautiful aesthetic makes this great for gifts.
Pomegranate Sugar Scrub | The Casual Craftlete
A pleasant fruity smell compliments this pomegranate sugar scrub. It's light pink color is great for a sweet, low-cost Valentine's Day gift!
Honey Almond Sugar Scrub | You Brew My Tea
All natural and organic, this honey almond sugar scrub is soft and hydrating.
Lemon Sugar Scrub | Caramel Potatoes
This lemon sugar scrub comes with free printable tags to give this lemon sugar scrub as a gift. The scrub is very easy to make, and makes a thoughtful appreciation gift that is sure to get some good use.

Image credit: A Pumpkin and a Princess
Passion Tea Sugar Scrub | A Pumpkin and a Princess
With a refreshing light pink color great for a Mother's Day gift, this passion tea sugar scrub only requires 5 ingredients, and has a recipe ideal for beginners. Its citrus and passion fruit give it a tropical, summer feel.
Bath and Body Works DIY Warm Vanilla Sugar Scrub | Simply Shellie
A copy cat from Bath and Body Work's Warm Vanilla Sugar Scrub, this homemade version leaves out a lot of processed ingredients and the high cost!
Mint Sugar Scrub | New Leaf Wellness
This mint sugar scrub only takes three ingredients and about five minutes to make – easy to make a small batch before your bath or shower. Since there are no "soap ingredients" involved, it's also not a big deal if little kids accidentally digest it!
Coffee Sugar Scrub | The Ox Mama
I love the smells of coffee, and this classy sugar scrub is exfoliating, inexpensive, and leaves your skin feeling wonderfully soft.
Peppermint Foot Sugar Scrub | The Idea Room
This sugar scrub is a relaxing treat after a long, hard day. One of my favorites!
Baby Rose Sugar Scrub | Smart School House
Fluffy in a light lavender color, this rose sugar scrub is made from rose petals.
Homemade Lip Scrub | Homemade for Elle
With a soft honey flavor, this lip scrub is perfect for wiping away dry, peeling lips. After applying some lip balm, your lips become smooth and soft!
DIY Lip Scrub | Rougeimaginaire
Not a fan of honey? Try this lip scrub made from your favorite chap stick or lip balm.
Apple Sugar Scrub | Tried and True Blog
For a creative spin for a teacher's gift, try this apple sugar scrub. Add some burlap for the wrapping and this also makes a great fall-inspired gift!

Image credit: I Heart Nap Time
Cucumber Mint Sugar Scrub | I Heart Nap Time
Light green always brings a natural and refreshing feel. This cucumber mint sugar scrub is great for a homemade spa day or a mom's night out. It also takes only about five minutes to make.
Orange and Pomegranate Sugar Scrub | Turning the Clock Back
While many sugar scrubs are made with essential oils for their smell and color, this one involves fresh fruit!
Aloe Green Tea Face Sugar Scrub | Sweet Simple Living
Although this green tea sugar scrub is meant for your face, it can easily be used for the rest of your body too! Being homemade, it additionally cuts down on many artificial and unhealthy products in store-bought facial products; making it naturally great for your skin.
Berry Blue Cotton Candy Sugar Scrub | Sweet Haute
Cotton candy has such a youthful scent, and the bright blue color makes this cotton candy sugar scrub completely kid-friendly.
Coconut Grapefruit Sugar Scrub | Live Laugh Rowe
Grapefruit is a refreshing fruit, and will leave your skin smelling fresh and fruity!

Image credit: Sunny Sweet Days
Snickerdoodle Sugar Scrub | Sunny Sweet Days
Only a few common household ingredients are needed for this delicious cinnamon sugar scrub, inspired by snickerdoodles.
Cherry Berry Sugar Scrub | Savvy Naturalista
Red, white, and blue: enjoy this brightly colored sugar scrub with a patriotic feeling. Its vibrant coloring comes from powdered mixes, instead of artificial food coloring.
Sparkling Snow Sugar Scrub | Soap Queen
White as snow and made with shea butter, this sugar scrub is gentle, exfoliating, and leaves a little sparkle!
Orange Citrus Sugar Scrub | Summer Scraps
With a fresh, orange summer feel, this zesty orange citrus sugar scrub is made entirely with homemade, natural ingredients.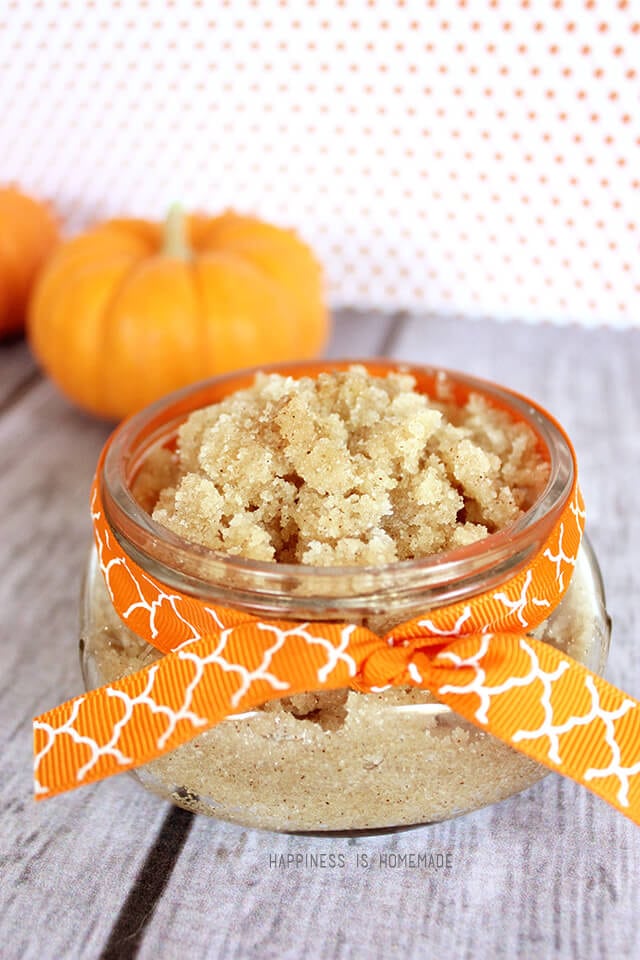 Image credit: Happiness is Homemade
Vanilla Pumpkin Spice Sugar Scrub | Happiness is Homemade
Bring a warm, cozy autumn into a sugar scrub with this pumpkin spice version. It's easy to make, and smells delicious!
Strawberry Sugar Scrub | Mommy Musings
You'll need some freeze dried strawberries for this sugar scrub, made from only four simple ingredients.
Coconut Lavender Sugar Scrub | Here Comes the Sun
Lavender is classic and relaxing, and lavender essential oils are said to be good for healthy sleeping habits. Mixed with coconut, this sugar scrub is irresistible and frugal!
Chocolate Sugar Scrub | Building Our Story
Only a small handful of cocoa powder is needed for this chocolate-brown sugar scrub, which makes a "sweet" gift, and only needs five ingredients!
If you're looking for another way to pamper yourself or someone you love, I enjoy using my foot spa that is (affiliate link ->) similar to this one.
Do you have a favorite homemade sugar scrub recipe or scent? Share it in the comments, I'm always looking for new ideas!